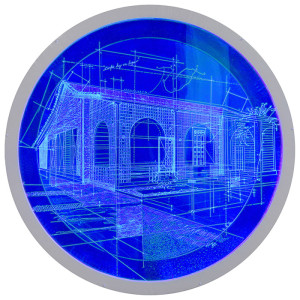 September 3 – October 31
"Perhaps home is not a place but simply an irrevocable condition." – James Baldwin
Growing up, William Pérez traveled with his father and drew houses. The idea of a "home" or "homeland" became a central motif in his work. Living in a country ripe with nationalism, yet where no land was privately owned however, a Cuban's sense of "home" is much more abstract. Pérez's latest body of work, "There is Always a Place," addresses the gamut of cultural identity as well as the immutable desire to belong, incorporating fiber optics and LEDs into acrylic panels which are hand-etched, usually depicting maps or architectural renderings of houses reminiscent of his childhood travels.
His new multi-media sculpture relies heavily on technology, though the artist's hand is an important element for Pérez. "When working with new technologies, it is important not to lose the human essence," he explains. He considers his work to be "self-referential" though the themes become universal. One piece in particular depicts a French-style home interwoven with the valves and sinews of an anatomically-accurate human heart, evoking the notion that "home is where the heart is" and also a deeply held belief for Pérez that humanity is the backbone of achievement, such as the working class in Cuba. The sculptures appear almost as spaceship portholes and seem to reference the spirit of Russian Constructivism in their poetic combination of aesthetic and mechanical components. When illuminated, the work takes on a more macrocosmic quality as the etchings of houses and countries transform and sparkle like a constellation.
William Pérez was born in Cienfuegos, Cuba in 1965. He studied at the Academia Nacional de Bellas Artes San Alejandro (1986) in Havana, with a focus on sculpture and is a founder of Grupo Punto, a group of young sculptors in Cienfuegos, Cuba. His work has been included in solo and group exhibitions in Brazil, Spain, the United States, Germany, Belgium, Denmark, Cuba, and Martinique.
_