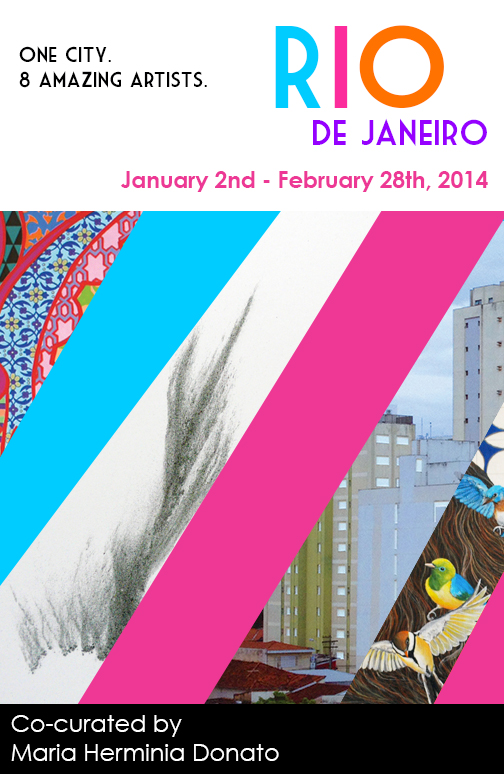 January 2 – February 28, 2014
Opening receptions: Thursday January 2, from 6 – 9 pm | Thursday February 6, from 6 – 9 pm
Co-curated by Maria Herminia Donato
As far away and little understood as the Amazon, the Brazilian art scene has arrived in Southern California.
Exhibitions put on in Rio are among the world's most attended and lines can stretch for hours as the hot Brazilian artists sell for millions abroad and hundreds of local galleries now converge at one of two new art fairs in Brazil. All of this is not only because of the artistic nature of the country, critics say, but generous government support for  culture in a country which is now richer than ever.
Collaborating with Brazilian curator Maria Herminia Donato, the doors were opened for saltfineart to explore the depths of Rio's talent. Traveling in person to Rio de Janeiro, saltfineart owner Carla Arzente and  Donato explored extensively, not only visiting  the homes and studios of Rio artists, but also the museums, galleries and cultural hot spots that make up this dynamic city.
The participating artists range from established to mid-career talents all with unique ways of approaching their craft. Inventive, precise, with an eye for meticulous detail, each convey a fascinating perspective on Brazilian life and culture.
VIEW THE 8 SELECTED ARTISTS HERE
EXPLORE THE RIO TRAVEL LOG
EXHIBITION CATALOG AVAILABLE AT THE OPENING RECEPTION