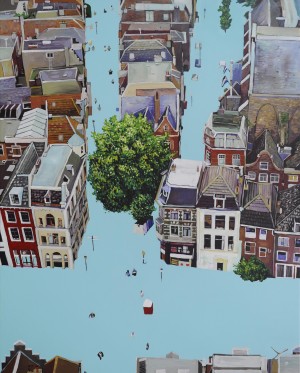 November 5 – December 31
Luciano Goizueta's work deals in time. "Time breaks down all the structures we rely on as humans," he states. It destroys monuments, heals the irremediable, and creates fantasy out of memory. It's this last affect that particularly interests Goizuetta, the way in which our perception of time shapes our personal narratives. People, places, and things in our lives affect our memory differently and with varying levels of clarity and significance. Furthermore, an experience we have years ago can create a lens through which we perceive things in present day.
Regardless of whether they're depicting a modern or old world scene, Goizueta's beautiful, painterly landscapes maintain a sense of nostalgia, obscured by either a graphic blue space taken from the skies in his native Costa Rica in his "Ausencia (Absence)" series, or the black ground of the canvas from which he constructs the night-scapes in his "Nocturna (Nocturnal)" series.
"Between December and February [the sky] takes on a very particular celestial hue, especially in the early morning," he explains. "Throughout a few series I have experimented with using the sky as an element to decontextualize the primary subjects of my paintings." By figuratively and literally "flooding" a landscape that exists in memory, the artist is asking the viewer to remember what is beneath the flood in a different way. This visual calls into reality a phenomenon – that every time we recall a moment from the past, we are remembering the last time we remembered it, rather than the moment itself.
In his "Nocturna" series, Goizueta utilizes the dark and not the light to obscure time and space, revealing only what is necessary to suggest structure and allowing the viewer's own memories and experience to fill in the blanks. In the same philosophical vein as Edward Hopper who has had an indelible influence on his work, Goizueta begins all of his paintings on a black canvas and allows the light to fall upon objects as they present themselves in his mind, giving his landscapes a distinctively sculptural quality and also echoing the ways in which our memories are built, fragmented, replaced, and concealed.
Goizueta has shown his paintings extensively in Costa Rica and across Latin America and Europe with major shows in Miami. His exhibition at Salt is the first time he has shown on the West Coast.