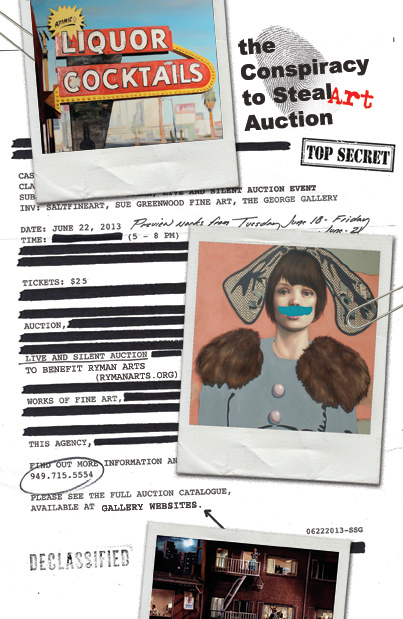 DATE: 6/22/13
TIME: 5 – 8 PM
All works will be available for preview from Tuesday, June 18th to Friday, June 21st at the saltfineart gallery.
Tickets: $25
Deals so good they're steals. Join in on the conspiracy plot June 22nd at the Saltfineart gallery. Intelligence has collected that this event will be hosted by (those hereby referred to as "galleries") Saltfineart, Sue Greenwood Fine Art, and The George Gallery to benefit Ryman Arts (rymanarts.org). Enjoy gourmet food and drink catered by the local Wine Gallery while top secret agents conduct both a live and silent art auction offering over 40 works by several CONFIDENTIAL artists.
Be advised that all patrons will be provided with loot upon arrival in the form of a handcrafted bid card by Ryman Arts student artists.